Shane Cucow – ABC News
Australian Marine Conservation Society's Plastics Campaign Manager
Australian supermarket efforts to cut down packaging 'disturbing', plastic waste expert says after report released.
The details revealed in an audit of Australian supermarket efforts to cut down plastic packaging are "disturbing" but not surprising, an expert in plastic waste says.
Key points:
The report found plastic-wrapped fresh fruit and vegetables were often cheaper than loose produce
Transparency surrounding packaging is a key concern
Australia has four targets for how packaging should be produced by 2025
The report released by Australian Marine Conservation Society (AMCS) and Boomerang Alliance today found all supermarkets were not doing enough to cut their plastic use in line with national targets.
ALDI came out on top with a score of two out of five for categories including transparency, plastic reduction, reusables and recycling.
The German supermarket giant was followed by Coles with one and a half, Woolworths with one, and much smaller Metcash — which runs franchise models with IGA and Foodlands — with zero.
Associate professor Tillman Boehme, a University of Wollongong expert in circular economies and plastic waste, said the findings "are quite disturbing".
"Yet I'm not overly surprised," he said.
The Unwrapped: Plastic Use in Australian Supermarkets report is based on data provided by the supermarkets, public reports, and shopper surveys in 2022.
AMCS plastics campaign manager Shane Cucow said it was disappointing to see Woolworths — the largest retailer by market share — rank last of the big supermarkets.
Mr Cucow said the major supermarket could not produce data for several important measures, including reducing plastic across its range.
"Woolworths has not been able to provide clear progress against the national packaging targets or internal targets to reduce plastic," he said.
And the statistics it did produce were "cherry-picked", he said.
A Woolworths spokesperson said the report was based on "incomplete data" and "not a reliable reflection of packaging sustainability" at the supermarket giant.
"Our data speaks for itself — we've removed more than 1.4 million kilograms of virgin plastic from our range since 2018, and across all the packaging we can control there is an average recycled content of 49 per cent," the spokesperson said in a statement.
"We know there is still more to do, and we will continue to publish our packaging data to hold ourselves accountable for our progress, while encouraging our suppliers to do the same."
Woolworths said it had moved to replace plastic with paper and recyclable alternatives.
Australia lagging other countries
Australia has four clear targets for sustainable packaging by 2025. One aim is that 100 per cent of packaging should be reusable, recyclable or compostable.
The report found Aldi had clearly published its progress regarding the national packaging targets, and its own internal standards of reducing plastic on fruit and vegetables.
Dr Boehme said the discount grocery chain was likely following European standards in reducing waste.
"We see in Europe a lot more consumer awareness, and consumers starting to demand recycling options," he said.
"In Germany, retailers have to take back all the packaging.
"Even if it's packaged I have a right to leave all my packaging at the supermarket, and that's driven by policy."
Acknowledging that consumer behaviour changes might be a generation away, he said the onus was on supermarkets to use their power in the supply chain to implement biodegradable substitutes.
ALDI Australia's sustainability director Daniel Baker said in 2019 the company committed to reducing plastic packaging by 25 per cent by 2025.
"We've also committed to the packaging of ALDI's exclusive brands to be 100 per cent recyclable, reusable or compostable by 2025," he said.
"Currently, 83 per cent of all ALDI packaging is recyclable, reusable or compostable."
A Coles spokesperson said 83.8 per cent of Coles own brand packaging is recyclable, and the company is continuing to remove packaging such as polystyrene bread tags, steel clips and PVC film.
"This year we replaced soft plastic bags with reusable paper bags made from 100 per cent recycled content that can be recycled kerbside at the end of life. This decision removed 230 million plastic bags from circulation in one year."
A Metcash spokesperson said it would review the report's recommendations and will look to make changes "to the extent possible", but was committed to adopting national packaging targets.
Loose produce 'more expensive'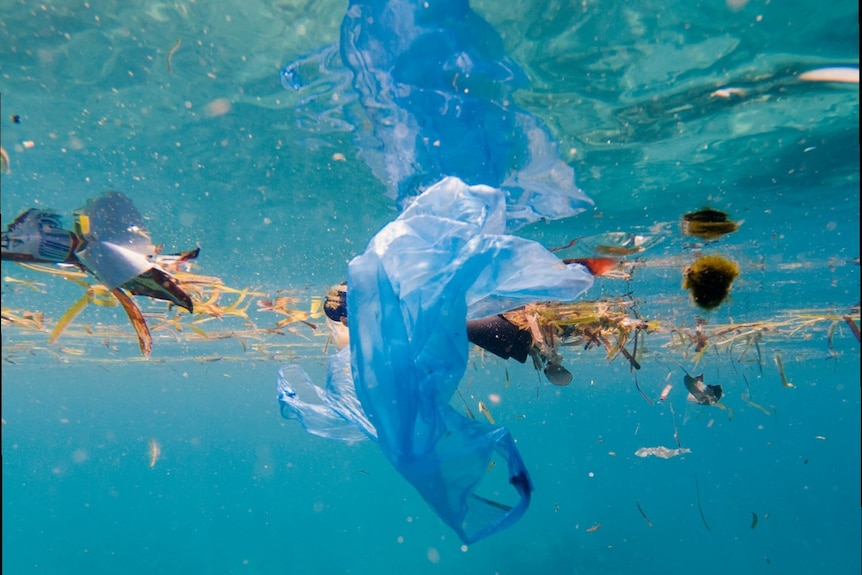 Plastic-wrapped produce is frequently sold for a cheaper price than loose items, according to the report.
"Customers who want to shop plastic-free, they are essentially being penalised for that choice," Mr Cucow said.
"But selling fresh produce loose actually tends to reduce food waste because people only buy the amount that they need."
Dr Boehme said these extra costs were likely due to logistics and shipping, with more effort and handling required for individually sold goods.
He said these inefficiencies along the supply-chain were letting customers down.
A Woolworths spokesperson said the majority of its fruit and vegetable range is sold loose, but there were some packaged items designed to extend shelf life or offer produce in bulk.